Food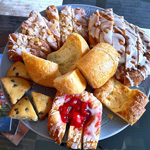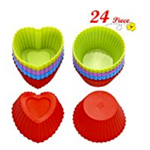 Chefaith 24-Pc. Reusable Silicone Baking Cups - $5.99
This set of 24 Reusable Silicone Baking Cups features 12 heart-shaped and 12 round baking cups. They're BPA free, non-stick, dishwasher safe and heat resistant up to 480F. Use them for cupcakes, muffins, soap making and more. Free 2-day shipping is available with Amazon Prime.
GET IT NOW!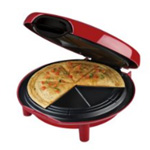 George Foreman Quesadilla Maker - $21.99
The George Foreman Quesadilla Maker prepares perfectly cooked quesadillas in less than 5 minutes. It features a 10" circular cooking surface with George Tough Nonstick grill plates for easy cleanup. Press and seal lines lock-in fillings from the sides and back for cantina-style, no-mess finger foods. Free 2-day shipping is available with Amazon Prime.
GET IT NOW!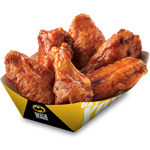 75% Off All Custom Drinkware From York Photo
For a limited time new and existing York Photo customers can get 75% off all custom drinkware with Code: SIP. Choose from coffee mugs, water bottles, travel mugs and more. Pick a design or create your own and upload your pictures - it's that easy!
GET IT NOW!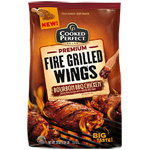 Cooked Perfect Wings & Hoops House Party
HouseParty is looking for 1,000 people to host a house party. If you're selected and confirmed as a host your party pack will contain:
- Free Cooked Perfect Premium Fire Grilled Wings coupons
- Basketball hoop with foam ball
- Can insulators
- And more
GET IT NOW!
Wendy's Advisors Panel - Win Prizes!
Wendy's is looking for people 18-34 to join Wendy's Advisors Panel. Give your valuable feedback that will help Wendy's to improve the products and services they provide to consumers like yourself. You will be contacted once or twice a month over the course of a year and be asked to provide your opinions and insights on a variety of topics. In addition, you have the opportunity to win prizes!
GET IT NOW!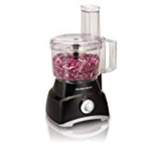 Hamilton Beach 8-Cup Food Processor - $21.59 (Reg. $26.99)
Save 20% on this Hamilton Beach 8-Cup Food Processor. Faster than cutting by hand - quickly chop onions, slice salad ingredients, shred cabbage, grate cheese, mix sauces, or prepare pesto. It features 2 speeds plus pulse control, and has a dishwasher safe bowl, lid and blades. Shipping is Free with Amazon Prime.
GET IT NOW!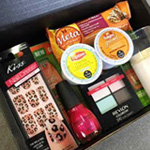 Free Samples from Shopper's Voice
Speak your mind. Make a difference. Earn rewards. Influence the companies behind the products and services you love. You will be eligible for exclusive rewards like free samples, money-saving coupons and special offers tailor-made for you. You'll also be entered to win $10,000 cash in the Shopper's Voice sweepstakes and qualify for the draw for 1 of 12 monthly prizes of a $500 gift card!
GET IT NOW!