Surveys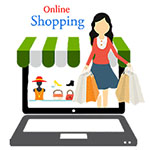 Online Shoppers Needed - Earn an Easy $100!!
Online shoppers ages 18-55 are needed for a new project. Those who qualify will be given the opportunity for a one-on-one interview for which you will be paid $100!
GET IT NOW!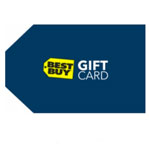 Earn Amazon, Best Buy & Walmart Gift Cards!
Don't miss out on this! Right now you can share your opinion and get Free Amazon, Best Buy & Walmart Gift Cards! Just register for free & confirm your email - it's easy! You can also choose gift cards from Starbucks and others!
GET IT NOW!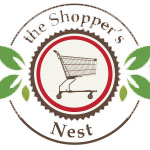 Exclusive Invite - Shoppers Nest - Cash & Prizes!
Join the exclusive Shopper's Nest Community where you can share your opinions about grocery shopping & win cash and/or prizes!
GET IT NOW!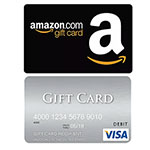 BizKnowledge Community - Now Recruiting!
Join BizKnowledge and earn Free Visa or Amazon Gift Cards for sharing your feedback. Companies worldwide are seeking honest feedback from real people like you to make crucial decisions about their products and services.
GET IT NOW!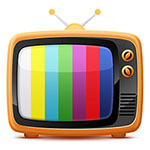 TV Community Recruit - Fantastic Rewards!
This is a unique opportunity to act as an extension of a media team. You will get exclusive previews of never-before-seen content, tell us what you think, and earn rewards along the way! Get in now! Simply join for free, confirm your email and login to the community to get started.
GET IT NOW!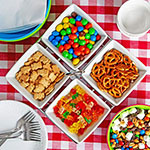 Influencers Wanted - In-Home Product Tests!
Join this true Market Research community for opportunities to test products and give your feedback. You can earn $10 gift cards for: Amazon, Target, Walmart, Jelly Belly, Dominos, iHOP, Best Buy, Home Depot, Macy's, and many more! You'll get $3 just for completing the free registration!
GET IT NOW!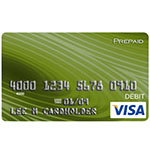 Win a $1,500 Gift Card + Get Instant Rewards!
Answer a few quick questions for a chance to win a $1,500 prepaid gift card. In addition to the sweepstakes you'll have a chance to get instant rewards like cash, coupons, free products & samples. (Must be age of majority, US, Enter once, Ends 6/30/22)
GET IT NOW!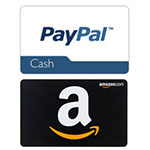 Exclusive Invite - $5.00 Paypal Cash or Amazon Gift Cards!
You're invited to join Rakuten Insights new survey and research panel! You can get paid in PayPal or Amazon gift card. Backed by the largest cashback shopping site in the world, Rakuten Insight gives you the chance to voice your opinion to premier brands. Get in now, spots are limited.
GET IT NOW!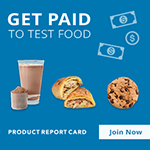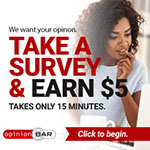 Easy $5.00 from OpinionBar!
Companies around the world need your input to improve the products and services you use every day. Once you complete their introductory survey and join; they'll deposit $5.00 into your account. You'll have the opportunity to participate in multiple surveys per day that pay $2-$5 per survey. Get in now!
GET IT NOW!