Stickers



Free Sticker: '3 Feet Please - It's The Law'
Request a free '3 Feet Please - It's The Law' sticker to help promote cyclist safety and sharing the road. (US)
GET IT NOW!


Nuclear Watch South
Free "No Nukes Y'All" Sticker from Nuclear Watch South. (US)
GET IT NOW!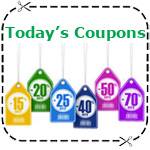 Today's Coupons & Sales
Tons of New Coupons have just been added! There are some fantastic Sales going on right now too! Get all of the latest exclusive coupons, great savings and fantastic deals! Updated throughout the day, every day!
GET IT NOW!