Work at Home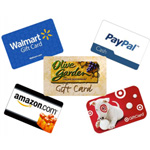 Quick Rewards - Earn Cash or Gift Cards Fast!
Want to earn some quick cash and/or gift cards? Join Quick Rewards! Get paid to read emails, test products, take surveys, visit websites, play games and more. No minimum required to cash out! Cash out at any time, as often as you'd like! This is a great one that's been around over 10 years!
GET IT NOW!







Valued Opinions
Join free, take surveys - get rewarded! Earn fantastic gift cards to spend with some of the nation's leading brands and retailers, including Amazon, Macy's, iTunes and more!
GET IT NOW!

Panda Research
Receive Cash for each survey you complete! Earn Additional Income for every email you read! Get paid by the 1st and 15th every month though Paypal. Sign up for free today!
GET IT NOW!

Free $15 From Smart Panel
Join Smart Panel! Get Smart Rewards for sharing your thoughts and Opinions! You'll get $5 just for qualifying, $10 more for having the Smart App installed at least one week, and then for every month that you keep the Smart App installed, you'll get another $5! Easy Money! Just answer the quick screener (3 questions) to see if you qualify.
GET IT NOW!