Food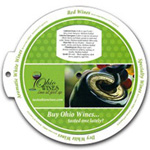 Free Ohio Wine Wheel
Get a Free Ohio Wine Wheel. A fantastic resource to learn more about Ohio wines, their taste profiles, and recommended food pairings.
GET IT NOW!

Free Catalog From Cheryl's
Whether you're shopping for your family, business associates or friends and neighbors, a delicious gift from Cheryl&Co. is guaranteed to bring you many thanks! View the catalog online or have a Free Cheryl's catalog mailed to you.
GET IT NOW!

Rachael Ray Every Day People Panel
The Every Day People Panel is a community of readers and website visitors who want to stand up and be heard. Here's just a quick list of the many benefits members enjoy: Tell them what you think through online polls and surveys; have the opportunity to enter their corporate $10,000 sweepstakes; influence what appears in the magazine and on the website and more. Members of the community may have the opportunity to participate in up to three surveys per month and may receive one special email offer each month from The Every Day People Panel. Join today - it's Free!
GET IT NOW!



Today's Grocery Coupons
Free printable manufacturer coupons for your favorite Grocery Brands.
GET IT NOW!